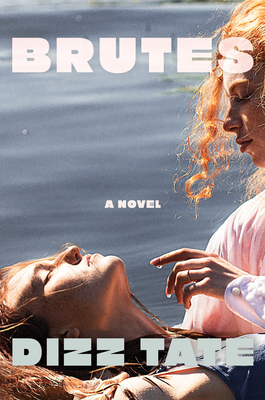 Brutes: A Novel
Publication Date:
February 7th, 2023
Usually Ships in 1 to 5 Days
In her outstanding debut, Dizz Tate has created a searing look at a group of young friends, the Brutes, who move as one and disrupt as they go. Set in Florida and traveling across time,Brutesillustrates childhood devoid of innocence.
February 2023 Indie Next List
Description
The Virgin Suicides meets The Florida Project in this wildly original debut—a coming-of-age story about the crucible of girlhood, from a writer of rare and startling talent
We would not be born out of sweetness, we were born out of rage, we felt it in our bones.
In Falls Landing, Florida—a place built of theme parks, swampy lakes, and scorched bougainvillea flowers—something sinister lurks in the deep. A gang of thirteen-year-old girls obsessively orbit around the local preacher's daughter, Sammy. She is mesmerizing, older, and in love with Eddie. But suddenly, Sammy goes missing. Where is she? Watching from a distance, they edge ever closer to discovering a dark secret about their fame-hungry town and the cruel cost of a ticket out. What they see will continue to haunt them for the rest of their lives.
Through a darkly beautiful and brutally compelling lens, Dizz Tate captures the violence, horrors, and manic joys of girlhood. Brutes is a novel about the seemingly unbreakable bonds in the "we" of young friendship, and the moment it is broken forever.
Praise for Brutes: A Novel
NPR, A Best Book of the Year
GQ, A Best Debut Novel of the Year
A Belletrist Book Pick
Named a Most Anticipated Book by Time, Nylon, Literary Hub, CrimeReads, Our Culture Magazine, and more
Goodreads, A Buzziest Debut Novel of the Year
"Elegant . . . Tate's work takes a sanctioned vision of suburbia and transforms it . . . The mystery is waylaid in favor of something more arresting, more sinister, more enthralling. By the end, Brutes feels wonderfully untethered, wild and unpredictable. The novel is an exploration of adolescent trauma and its otherworldly manifestations rather than a retelling of a trope." —Danya Kukafka, The New York Times Book Review
"An original and stylistically ambitious take on the well-trodden subject matter of girls in peril . . . Tate perfectly captures the simultaneous impatience and mercurial swings of girlhood." —Kristen Martin, NPR
"This season's most-anticipated first outing." —Vogue
"With easily one of the most cinematic covers of the year's new release slate, Dizz Tate's Brutes is marketed as The Virgin Suicides meets The Florida Project. That's an apt comparison, considering the violent, dangerous pleasures lurking in this coming-of-age story, which follows a group of young girls who flock around the radiant local televangelist's daughter—until she one day disappears. This is a riveting tale, one that refuses to sacrifice nuance nor insight for the sake of its propulsive narrative." —Elle, A Most Anticipated Title of the Year
"Spellbinding . . . Brutes is astonishing, unnerving, cinematic, and slyly hideous." —Patrick Rapa, The Philadelphia Inqurer
[A] magic realist, warped Florid a fairy tale, a Lynchian reinterpretation of The Virgin Suicides . . . Tate acutely captures the precariousness of girlhood, its growing pains and what it is to be "born out of rage."' —The Observer [UK]
"An astonishing debut that will burrow under your skin." —The Sunday Times (London)
"[A] much-heralded debut . . . Brutes contains many high-calibre ingredients, not least Tate's linguistic flair and acute visual sense." —Madeleine Feeny, The Guardian
"Narrated by an intense voice—the crowded 'we'—Brutes uses an imagistic, unnerving language to tell the story of these girls and their young, 'hatching hearts.'" —Bustle, A Most Anticipated Book of the Year
"Dizz Tate captures the sticky, grabby feeling of puberty in her addictive, haunting debut novel." —Sophia June, Nylon
"Florida is a place of extremes—extreme heat, extreme weather, extreme people. It's hard to put into words what growing up there is like, but with her debut novel, Dizz Tate combines the intensity of the state with the dramatic, emotional turbulence of young adulthood . . . A portrait of a state unlike any other—a car crash that's impossible to look away from." —Sam Franzini, Our Culture
"Told from a perspective reminiscent of The Virgins Suicides and the unflinching style of The Florida Project, Dizz Tate immediately makes her mark with her debut novel Brutes." —Chicago Review of Books
"A surreal and ambitious debut novel . . . Brutes's adolescent cast, time-jumping narrative, and promise of violence evoke the hit show Yellowjackets." —The Millions, A Most Anticipated Read
"Dark and beautiful instantly come to mind when thinking about how to describe the teenage girl friendship in this book. Dark and beautiful also describes Tate's writing. It explores coming-of-age in such new and unique ways. Brutes will mesmerize you and catch you off guard with how accurate yet unpredictable it is." —Debutiful
"Through a darkly beautiful and brutally compelling lens, Dizz Tate captures the violence, horrors, and manic joys of girlhood. Brutes is a novel about the seemingly unbreakable bonds in the 'we' of young friendship, and the moment it is broken forever." —Kailey Brennan Dellorusso, Write or Die Magazine
"Brutes offers stark and unlovely characterizations, but with moments of striking beauty. The girls (and their mothers) are grasping, even desperate, but capable of compassion. Tate's Florida is steamy and thickly rank, with blinding sunlight and shadowy depths . . . This is a dark coming-of-age tale and meditation on childhood and the cusp of adolescence: authentic . . . with glimmers of hope." —Shelf Awareness
"Mesmerizing moments . . . An often beautiful work." —Publishers Weekly
"Tate's debut novel is for readers looking for a riveting plot only topped by its captivating voices, at times honest and vulnerable, at others chilling in their detachment, Tate's prose enhances the conspiratorial relationship of these characters bonded by fickle friendship pacts, violence, and love. Simultaneously disturbing and sentimental, Brutes is a true reflection of girlhood." —Booklist
"Dreamlike . . . Tate's novel feels a bit like avant-garde fashion: surreal, impractical, but beautiful to see. A promising first book whose enigmatic nature is . . . alluring." —Kirkus Reviews
"Innovative, urgent, and endlessly lush, Brutes is the rapturous story of darkly shifting allegiances among a group of obsessive teenage girls. A masterful sentence maker, Tate is a startling and singular new voice, and her debut novel is so taut and intense it might just catch fire." —Kimberly King Parsons, author of Black Light
"The mystery and the danger of being a girl, of feeling crazy and vulnerable and wild, wanting to run away and be someone—anyone—is captured here across a landscape of nail polish and fire and sex, a sinister lake and the pink sky of Florida. Brutes is a beautiful and deeply strange novel, full of dread and longing. I loved it." —Mariana Enríquez, author of Our Share of the Night and Things We Lost in the Fire