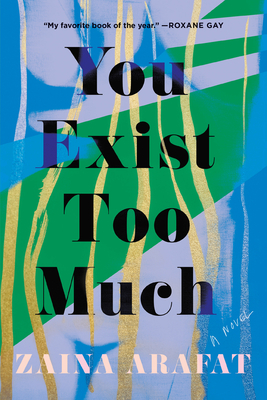 You Exist Too Much: A Novel
Publication Date:
June 8th, 2021
Usually Ships in 1 to 5 Days
Zaina Arafat's You Exist Too Much is one of my favorite books of the year. This debut novel blew me away. Arafat's narrator is confident in her vulnerability; her desire to be seen and understood is visceral and uncomfortably familiar. The intoxication of unrequited love and the disconcerting feeling that can accompany settling down are recognizable, yet in Arafat's capable hands, I was transported. This book is for anyone who has struggled to fit into society's neat boxes, who has been frustrated when emotions don't follow a logical path, or who has been disappointed to find that sometimes the love of others isn't enough.
June 2020 Indie Next List
Description
A "provocative and seductive debut" of desire and doubleness that follows the life of a young Palestinian American woman caught between cultural, religious, and sexual identities as she endeavors to lead an authentic life (O, The Oprah Magazine).
On a hot day in Bethlehem, a 12–year–old Palestinian–American girl is yelled at by a group of men outside the Church of the Nativity. She has exposed her legs in a biblical city, an act they deem forbidden, and their judgement will echo on through her adolescence. When our narrator finally admits to her mother that she is queer, her mother's response only intensifies a sense of shame: "You exist too much," she tells her daughter.
Told in vignettes that flash between the U.S. and the Middle East—from New York to Jordan, Lebanon, and Palestine—Zaina Arafat's debut novel traces her protagonist's progress from blushing teen to sought–after DJ and aspiring writer. In Brooklyn, she moves into an apartment with her first serious girlfriend and tries to content herself with their comfortable relationship. But soon her longings, so closely hidden during her teenage years, explode out into reckless romantic encounters and obsessions with other people. Her desire to thwart her own destructive impulses will eventually lead her to The Ledge, an unconventional treatment center that identifies her affliction as "love addiction." In this strange, enclosed society she will start to consider the unnerving similarities between her own internal traumas and divisions and those of the places that have formed her.
Opening up the fantasies and desires of one young woman caught between cultural, religious, and sexual identities, You Exist Too Much is a captivating story charting two of our most intense longings—for love, and a place to call home.
Praise for You Exist Too Much: A Novel
An Entropy Best Book of the Year
"At once complicated and engaging, this is the kind of debut novel that announces the arrival of a powerful new author who, besides writing beautifully, has a lot to say." —Gabino Iglesias, NPR 
"This story about love, identity, gender and family is brilliantly written and questions the effects of maternal love." —Good Morning America
"[A] provocative and seductive debut . . . Novels like these don't exist enough." ―O, The Oprah Magazine
"This multifaceted story reflects the ever-tricky journey to finding one's place in the world." —Matt Ortile, Esquire
"Her novel is an unlimited space for those whose identities have always been too uncomfortable for society . . . When being a queer Muslim seems too complex for the world to handle, You Exist Too Much is a testimony as otherwise. There is nothing more of an attestation to our narratives than an LGBTQ Muslim author with a bisexual Palestinian-American main character." —Zainab Almatwari, Teen Vogue
"Thankfully we have moved beyond tedious questions about the 'likability' of fictional women, because the most interesting characters rarely are at all times. Arafat's heroine is no exception, but the author writes her with great tenderness and just enough self-aware dark humor to allow readers to become invested in this young woman's efforts to make herself whole." —Erin Keane, Salon
"As a narrative with an insistence on revisiting ruptures in memory, and unpacking the trauma therein, Arafat's novel is a direct resistance to pinkwashing and other homo-nationalistic ideologies, one that centers Palestinian memory and generously unpacks the underlying sociopolitical contexts of Palestinian society for non-Palestinian readers." —George Abraham, Public Books
"You Exist Too Much gets desire at a deep level: where it comes from, how it pushes and tugs, and how it's virtually never just about who it's about. As the narrator pinballs from one disastrous affair to the next, we get more than the chronicle of a young full-blown love addict, but a keen study in how our wants are bound to place, race, gender, religion, psychology, and family. Zaina Arafat speaks for the persistently hungry." ―Tony Tulathimutte, author of Private Citizens
"What a breath of fresh air! Zaina Arafat takes a familiar figure―the restless, womanizing narrator of many a canonical novel―and reimagines it to mordant and delightful effect. Her queer, Palestinian American, love-addict protagonist is pining mostly for a sense of belonging and purpose. She's a deeply relatable character who beautifully conveys the anguish of trying to figure out a life between categories of various kinds. You Exist Too Much is a moving, irreverent, darkly entertaining novel about the agony of family, the mysteries of romantic love, and the painful work of learning where we stop and others begin. Arafat is a true original." ―Nina Renata Aron, author of Good Morning, Destroyer of Men's Souls