Discounted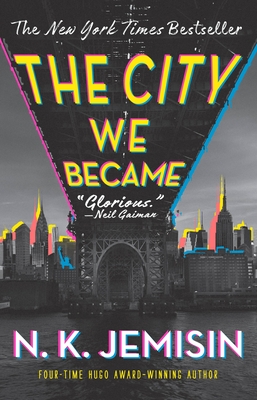 The City We Became: A Novel (The Great Cities #1)
Previous price:

$19.99
Current price:

$18.99
Publication Date:
July 27th, 2021
Usually Ships in 1 to 5 Days
I love N.K. Jemisin's books, I love New York City, and I love this book about the soul and personification of New York. The City We Became might just be my favorite book to be published in 2020. This story is filled with tension, humor, and great characters, with a guest appearance near and dear to me. While this book is the beginning of a trilogy, it is completely satisfying as a stand-alone novel. Read it and be happy.
April 2020 Indie Next List
Description
Three-time Hugo Award-winning and New York Times bestselling author N.K. Jemisin crafts her most incredible novel yet, a "glorious" story of culture, identity, magic, and myths in contemporary New York City. In Manhattan, a young grad student gets off the train and realizes he doesn't remember who he is, where he's from, or even his own name. But he can sense the beating heart of the city, see its history, and feel its power. In the Bronx, a Lenape gallery director discovers strange graffiti scattered throughout the city, so beautiful and powerful it's as if the paint is literally calling to her. In Brooklyn, a politician and mother finds she can hear the songs of her city, pulsing to the beat of her Louboutin heels. And they're not the only ones. Every great city has a soul. Some are ancient as myths, and others are as new and destructive as children. New York? She's got six.For more from N. K. Jemisin, check out: The Inheritance TrilogyThe Hundred Thousand KingdomsThe Broken KingdomsThe Kingdom of Gods The Inheritance Trilogy (omnibus edition)Shades in Shadow: An Inheritance Triptych (e-only short fiction)The Awakened Kingdom (e-only novella) Dreamblood DuologyThe Killing MoonThe Shadowed Sun The Dreamblood Duology (omnibus) The Broken EarthThe Fifth SeasonThe Obelisk GateThe Stone Sky How Long 'til Black Future Month? (short story collection)
"A glorious fantasy." —Neil Gaiman
Praise for The City We Became: A Novel (The Great Cities #1)
"It's a glorious fantasy, set in that most imaginary of cities, New York. It's inclusive in all the best ways, and manages to contain both Borges and Lovecraft in its fabric, but the unique voice and viewpoint are Jemisin's alone."—Neil Gaiman
"The City We Became takes a broad-shouldered stand on the side of sanctuary, family and love. It's a joyful shout, a reclamation and a call to arms."—The New York Times
"Jemisin is now a pillar of speculative fiction, breathtakingly imaginative and narratively bold."—Entertainment Weekly
"A love letter, a celebration and an expression of hope and belief that a city and its people can and will stand up to darkness, will stand up to fear, and will, when called to, stand up for each other."
—NPR
"The City We Became is a raucous delight, a joyride, a call-to-arms, a revolution with plenty of dancing. Eat your heart out, Lovecraft."—Alix E. Harrow, author of The Ten Thousand Doors of January
"Some of the most exciting and powerful fantasy writing of today... Jemisin's latest will attract ... even those who don't typically read genre fiction."—Booklist (starred review)
"The most important speculative writer of her generation...She's that good."—John Scalzi
"A love/hate song to and rallying cry for the author's home of New York... Fierce, poetic, uncompromising."—Kirkus (starred review)
"The City We Became is a wonderfully inventive love letter to New York City that spans the multiverse. A big middle finger to Lovercraft with a lot of heart, creativity, smarts and humor. A timely and audacious allegorical tale for our times. This book is all these things and more."—Rebecca Roanhorse, author of Trail of Lightning
"N. K. Jemisin has captured the living, breathing soul of New York City in a way that only a writer of her skill can. The City We Became is a masterpiece that plays by no rules-beautiful, musical, joyfully weird, and as impossibly fantastical as it is deeply true."—Peng Shepherd, author of The Book of M
"Without a doubt, one of the most brilliant books I have ever had the honor of reading. An homage to New York City, packed with all its love and harshness, and so incredibly inventive that I felt my own imagination and the boundaries of what fantasy can be expand."—S. A. Chakraborty, author of City of Brass
"The greatest fantasy novelist currently writing turns her magnificent eye and ear and heart on New York City, and the result is every bit as full of love and rage and crazy compelling characters as my beloved city deserves."—Sam J. Miller, Nebula-Award-Winning author of Blackfish City
"One of the most celebrated new voices in epic fantasy."—Salon.com